Are you tired of wasting time and money on manual tasks that slow you down and frustrate your customers? Do you want to streamline your business processes and improve your efficiency, collaboration and customer satisfaction? Do you want to leverage the latest technology trends such as robotic process automation (RPA) and AI-powered automation?
If you answered yes to any of these questions, then you need our business automation service. We are a team of experts who can help you design, implement and manage digital workflows that suit your specific needs and goals.
We work with businesses of all tech capability levels and pride ourselves on being able to work with non-technical people to achieve amazing outcomes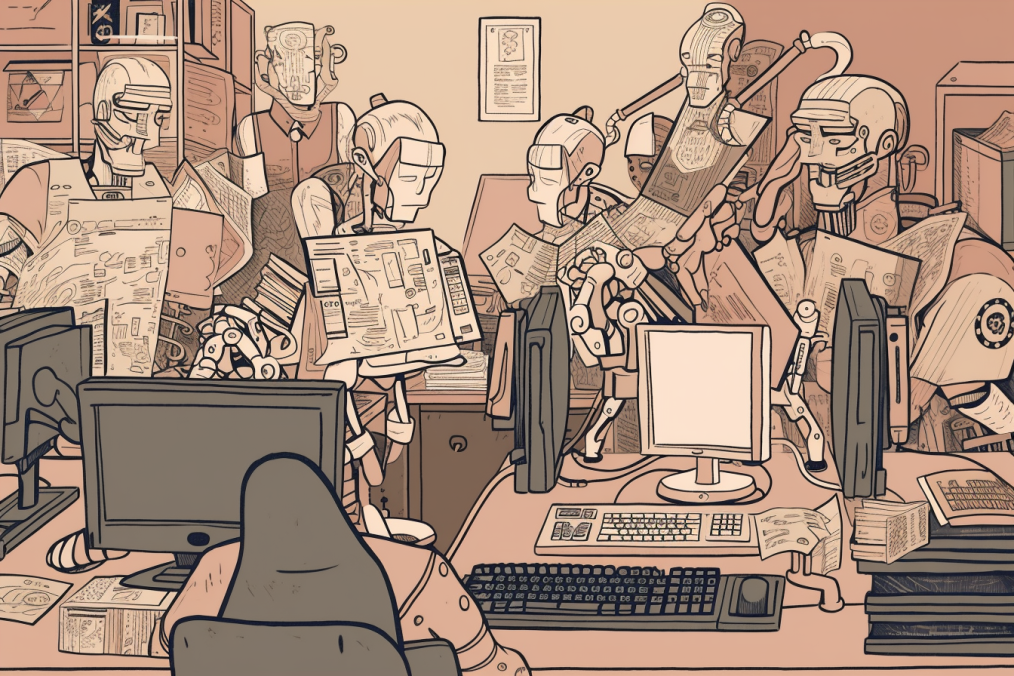 What is business automation?
Business automation is a term for the use of technology applications that perform repetitive tasks, freeing up employees for higher value work1. This includes business process automation (BPA), which automates end-to-end processes across an organization; robotic process automation (RPA), which automates tasks that involve interacting with multiple systems; and AI-powered automation, which uses artificial intelligence to enhance decision making and data analysis.
Why do you need business automation?
Business automation can help you achieve many benefits, such as:
Increased productivity: By automating repetitive tasks, you can free up your staff's time to focus on more high-value activities that require human input. For example, you can automate data entry, order processing, invoicing, and other manual tasks to improve efficiency and productivity.
Improved accuracy: Automation helps to eliminate errors that can occur during manual data entry or other manual processes, resulting in more accurate and reliable results. For example, you can automate your accounting processes to reduce the risk of errors and ensure accurate financial reporting.
Cost savings: By automating various functions, you can reduce the need for manual labor, which can result in significant cost savings for your business. For example, you can automate your marketing processes to reduce the cost of hiring additional staff for email marketing or social media management.
Enhanced customer experience: By automating customer service functions such as chatbots or automated email responses, you can provide customers with quick and efficient support, leading to a better overall customer experience. For example, you can automate your customer service process to provide quick responses to frequently asked questions, order status updates, and other inquiries.
Examples of automations we can implement in your business
Email marketing: Automate personalized and targeted emails to customers based on their behavior and preferences.
Talent acquisition and hiring: Automate resume screening, interview scheduling, and feedback sending using machine learning.
Customer service: Automate 24/7 support, FAQ answering, and feedback collection using chatbots or virtual assistants.
Sales: Automate lead tracking, prospect follow-up, proposal creation, and deal closing using automation tools.
Human resources: Automate payroll management, benefits administration, performance review, and employee engagement using automation tools.
Accounting: Automate invoice generation, expense tracking, transaction reconciliation, and tax preparation using automation tools.
Inventory management: Automate stock level monitoring, product reordering, warehouse space optimization, and theft or loss prevention using automation tools.
Social media marketing: Automate post scheduling, follower engagement, metric analysis, and ad running across different platforms using automation tools.
Product recommendation engines: Automate relevant product or service suggestions to customers based on their browsing history or purchase behavior using AI-based automation.
Expert shopping advisor systems: Automate personalized advice or guidance to customers based on their needs or preferences using AI-based automation.